We were delighted to be invited again to take part and Sponsor a category of the 2017 Dunstable Business & Community Awards.
The Awards were a massive success again! Not only rewarding businesses & their staff for their success over the last 12 months but the Awards are also a massive contributor to local charities & food banks this year raising enough money to provide over 1,000 meals.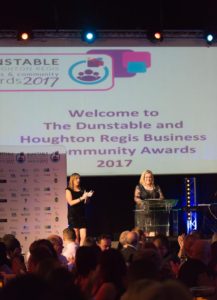 I would like to Congratulate Joe Raymen the recipient of the award I presented at the 2017 Dunstable Business & Community Awards, the Apprentice of The Year from Jam Crackers IT.
I would also like to Congratulate Elizabeth Chapman who won the highly commended Apprentice of the year award.
Members of the Taylor & Faith Recruitment team were present, along with clients and friends.
We enjoyed a full – on night of Awards and celebrations continued by a night on the town with friends, clients and local businesses in the Dunstable, Luton & Surrounding areas.
Well done to all, it was a fantastic evening, we're already looking forward to next year's event!